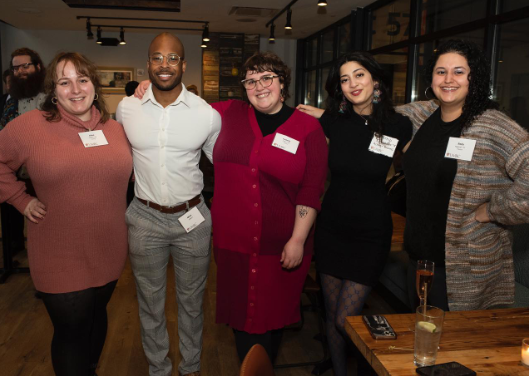 A Theatre degree from UMBC can lead to a number of diverse career paths.
UMBC Theatre graduates become successful working actors and designers at professional theatres across the country, as well in TV/Film. Graduates have started their own theatre companies, received prestigious awards and grants, become professors at universities, produced their own films, and more.
Our graduates wanting to continue their theatre training have gone on to study at various institutions including University of Maryland, College Park, Towson University, Texas Tech University, Cincinnati Conservatory of Music, University of San Diego, University of Iowa, Mary Baldwin University, New York University, University of North Carolina, Chapel Hill, California Institute of the Arts, University of Indiana, Yale, and the list continues to grow!
Alumni Spotlights
Katie Kopajtic, BFA Acting ('11)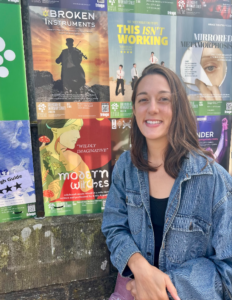 Katie Kopajtic (she/her) is a writer, actor, and producer, having brought about a series of works in the past decade with her production company Tres Brujas Productions, which she runs with her wife, Monica. Recently Katie has been touring her solo show Modern Witches, described as "like Fleabag and Sylvia Federici got really into [Virginia] Woolf" which had a successful run at the 2023 Edinburgh Fringe Festival and is slated for a three week run this spring in New York City. Both audiences and reviewers have lauded Modern Witches, calling it "wildly imaginative" and "thoroughly and lovingly researched," among other praise.
In addition to continuing work on Modern Witches, Katie is in post production with her feature documentary Heritage Fantasy, which tackles themes of identity, self-doubt, and the struggle to find self-worth as an artist outside the success metrics determined by a capitalist market.
Her fiction and nonfiction stories and essays have been published by Variant Literature, Cream City Review, Catapult, Electric Literature and more. She is currently employed as a narrative designer for a web3 science fantasy gaming project, in addition to teaching youth improv and working as a freelance editor.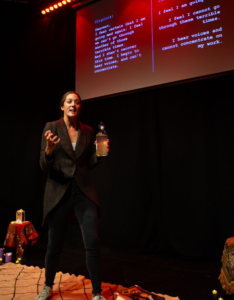 "My UMBC theatre degree gave me the tools to be a great actor, but beyond that a deeper understanding of how to tell a great story using any medium. This has to do with how UMBC teaches theatre; no matter the specific role you are studying, you are first and foremost a storyteller, and you have a responsibility to bring your best work to the table. Holding myself to that standard has been an asset through the many variations in my artistic career, both as an individual artist and as a collaborator. 
My advice to anyone graduating is: marry rich be patient with yourself. The feeling of success is not constant. Sometimes you are coasting on a strong current, but most of the time you are treading water. Learn to embrace every element of the artistic process: the bitter taste of rejection, the euphoria of a rehearsal breakthrough. Follow curiosity. Be a good theatre citizen: see shows, read new plays, cheer on your peers. It sucks to feel alone but you are never alone. It will all be okay!"
To check out Katie's work, visit her website: www.katiekopajtic.com
Jalon Payton, BA Theatre Studies ('21)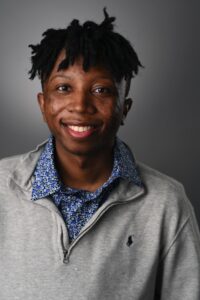 Jalon Payton currently works as a freelance stage manager mainly based in the Baltimore/DC area. Towards the end of his time as a student at UMBC, he began working as a stage manager for play readings and workshops with Roundhouse Theatre & Taffety Punk Theatre in DC. Following these workshops, he made his debut at Baltimore Center Stage for the first show of their 2021/22 Season, The Swindlers: A Tru-ish Tall Tale, as a Production Assistant. His recent area credits include 10 Seconds (Imagination Stage, Stage Manager), Is Edward Snowden Single? (Single Carrot Theatre, Stage Manager); The Folks at Home (Baltimore Center Stage – world premiere, Production Assistant); Ken Ludwig's Baskerville: A Sherlock Holmes Mystery (Everyman Theatre, Assistant Stage Manager), The High Ground (Arena Stage – world premiere, Assistant Stage Manager). Jalon has experience working out of town as an Assistant Stage Manager at American Players Theatre in Spring Green, Wisconsin for 2 summer seasons (The Brothers Size, A Raisin in the Sun, The Royale, and Anton's Shorts). In Fall 2023, Jalon will be returning to Arena Stage as an Assistant Stage Manager for the east coast premiere of the new musical, Swept Away.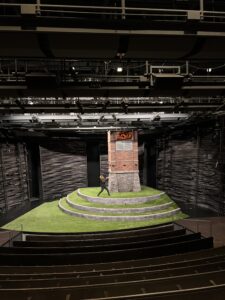 Jalon was able to create a stable foundation out of his passion and drive for stage management at UMBC, thanks in part to his Stage Management Professor at the time: Samantha Paradis.
"My connection with Baltimore Center Stage began because Sam passed them my information for a position in the spring of 2020. While the show I was supposed to work on was postponed, the connection I had established with them was not forgotten. It led to my first PA position, which then opened up a lot of opportunities for me. Recently, Sam was able to visit APT to see The Royale, and it's a great feeling when your mentor gets to witness your professional work. It's been really good getting to have conversations with Professors Eve Muson, Susan McCully, and Susan Stroupe (to name just a few) about what I've been up to since graduating when I periodically visit UMBC.  Watching friends who were my classmates continue to do new and exciting projects post college has been really inspiring to watch from afar."
You can keep up with Jalon by following him on Instagram, or learn more at his website.
Anderson Wells (aka Vagenesis), BFA Acting ('13)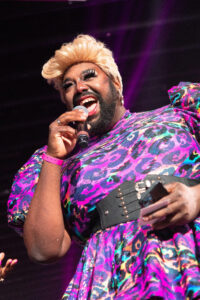 Anderson Wells has been working as a performer, producer, teacher, and administrator in the DC theatre scene since 2013. They have worked with Arena Stage, Arts on the Horizon, Brave Spirits Theatre, Encore Stage and Studio, The Hub, The Klunch, Pinky Swear Productions, Rep Stage, Silver Spring Stage, Solas Nua, Studio Acting Conservatory, Studio Theatre, Treehouse for Creative Kids, and The Welders. Currently, they are the Managing Director for Constellation Theatre Company, and Founding Artistic Director of Highball Productions. Anderson also performs across the country as their drag persona, Vagenesis and has won multiple titles including becoming the first ever National Bearded Empress.
"I always knew I wanted to be a performer. My time at UMBC gave me the space, tools, instructors, and community to focus and strengthen my skills as a performer. Along the way I was surprised to find that I had picked up skills that gave me a kind of theatre business savvy. I learned how to market the performance skills I'd gained and make myself desirable as an artistic collaborator. As I worked my way through the DC theatre scene, I was exposed to new and exciting forms of art and started to find new skills like teaching, directing, poetry, and drag.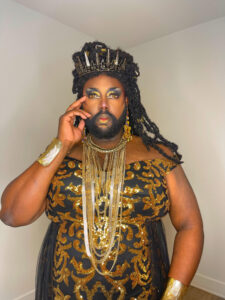 Vagenesis and all of her success are absolutely a product of the acting training I received at UMBC. I infuse my understanding of character, beats, structure, and storytelling with every lipsync performance. I've even built my own theatre company centered around combining acting and drag. I never expected this to be the path I would take, but I am so grateful for it.
The best advice I could provide to any aspiring actor, performer, or artist – especially if you are fortunate enough to study at UMBC – is to allow the art to work through you. You can't force it to happen. Take your training and strengthen your body and mind and allow yourself to be a vessel for whatever you are meant to do. And never take yourself too seriously – theatre should be FUN!"
Learn more about Vagenesis and Anderson here .
Caroline Tyson, BA Theatre, Design & Production ('20)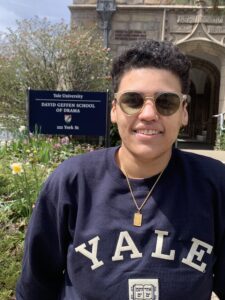 "After graduating in 2020 and spending a year away from theatre due to the pandemic, in 2021 I moved to NYC to work as an assistant costume designer for opera, drama, and dance at The Juilliard School as part of their Professional Apprentice Program. After my season at Juilliard, I was a freelance design assistant at several regional and off-broadway theatres before starting my MFA in Costume Design at the David Geffen School of Drama at Yale.
While my first year at Yale has certainly been challenging, it's also been incredibly rewarding, and I feel that my time at UMBC thoroughly prepared me for both graduate school and the professional world. As a student I loved UMBC's emphasis on professionalism in and outside of the classroom; my experience working on shows like Girls on a Dirt Pile and Gwyneth in conjunction with my classes helped teach me how to be a successful working designer. They also sparked a love for developing new work that has carried over into my career, including being the associate costume designer for At the Wedding, a new play that premiered at Lincoln Center Theater last year.
I received an excellent design education at UMBC, but non-design classes unique to UMBC such as Mods with Susan Stroupe and Capstone with Eric Abele have also been instrumental in helping me build a career, succeed in graduate school, and figure out what kind of theatre artist I want to be. Capstone especially is a class that I benefit from every single day, and my biggest piece of advice to current students would be to really invest in using the resources provided in that class to set yourself up for success after graduation. Even though I graduated into a very uncertain world, Capstone gave me a path to make a way for myself once theatres reopened, and encouraged me to put a lot of thought into who I am and who I want to be not only as an artist and collaborator, but also as a human being."
Learn more about Caroline and her costume design work at carolinetyson.com.
Hannah Kelly, BFA Acting ('17)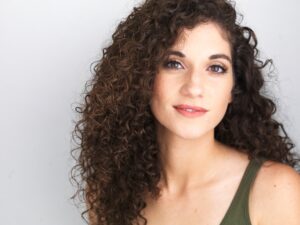 Hannah is currently a Resident Company Member at Everyman Theatre in Baltimore, MD. Her credits at Everyman include: Harvey (upcoming), The Lion in Winter, Sense and Sensibility, Behold, A Negress, The Skin of Our Teeth, Agatha Christie's Murder on the Orient Express, Everything is Wonderful, and The Book of Joseph. She has also performed at Chesapeake Shakespeare Company: Dracula, The Diary of Anne Frank, and Charm City Fringe Festival: Proxy.
"Since graduating from UMBC I have been fortunate enough to become a company member at Everyman Theatre in Baltimore. This has been such an amazing experience because it offers a sense of stability for work and a feeling of home that is not common in this career. I get to perform consistently while also being challenged by new and exciting roles.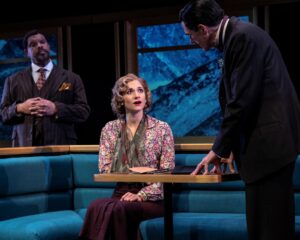 I'm so grateful for my time at UMBC and I feel like the professional atmosphere of the rehearsal and performance process really gave me the foundation for entering into the world of professional theatre.
My advice to anyone graduating and entering the professional world is to always keep learning and make it your own journey. Learn from the people in the room with you, soak up any and all advice, and then use that to create the career that you want, not the career you think you should want.
This is such a demanding, fun, fulfilling, and exciting career. It can be overwhelming, but it's worth it."
Learn more about Hannah and Everyman Theatre at Everymantheatre.org.
Find past Alumni Spotlights here.
The best way to keep up with our alumni is to follow our Facebook and Instagram.
If you're an alumni of the department – we'd love to hear from you!
Send us an update at theatre@umbc.edu.