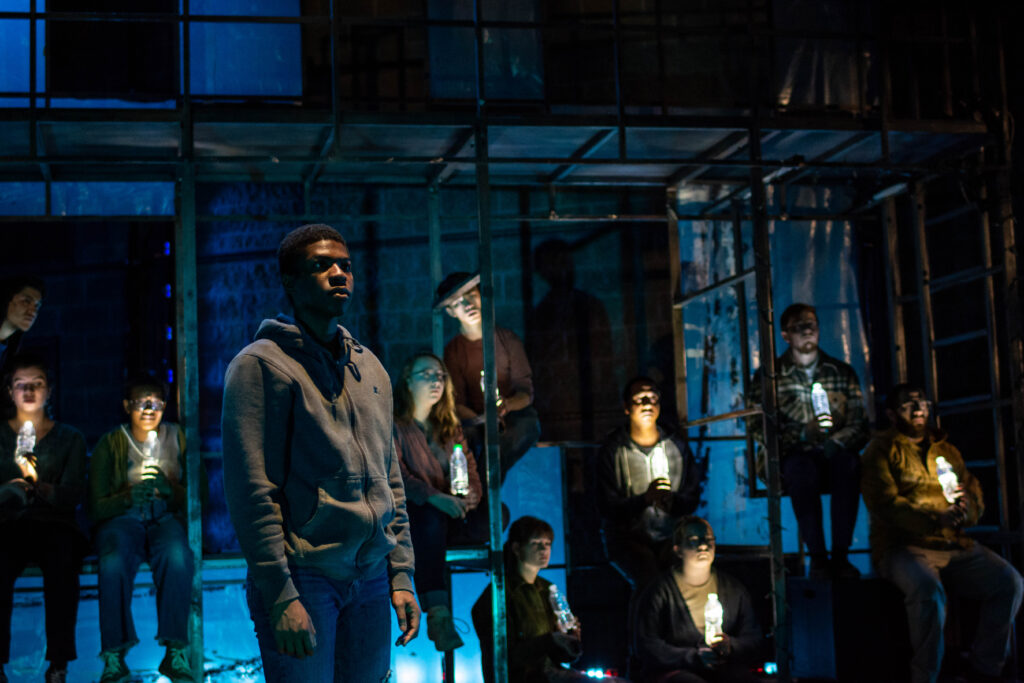 Everybody by Branden Jacobs-Jenkins. Spring 2021. Photo by Marlayna Demond '11.
Students interested in multiple areas of theatre practice develop an array of skills in both technical production and performance through this dynamic, flexible track. Those pursuing the Theatre, BA; Theatre Studies Track produce traditional theatre and devise new works by serving as directors, dramaturges, designers, performers and playwrights in an ensemble-based training. The track provides a rigorous course of study in technical production with training on state of the art scenic, audio and lighting equipment. The degree is ideally suited for the double-major wishing to combine this BA in creative practice with other undergraduate studies, such as the Arts Entrepreneurship Minor.
In addition to the theatre studies requirements, students must also complete the BA Theatre core of classes.
Theatre Studies Track Requirements: Credits (11)
THTR 405 Ensemble II (3)
Executive Series "E"
One of the following: (3-4)
THTR 350 Directing I (4)
THTR 353 Stage Management (3)
THTR 371 Playwriting (3)
Literature Series "L"
One of the following: (3)
THTR 349 Gender, Sex & Theatre Performance (3)
THTR 410 Contemporary Political Theatre (3)
THTR 470 Drama Seminar (3)
Production/Performance Requirement: Credits (2 – 6)
As part of their final four semesters, all students in the BA Concentration in Theatre Studies must complete two semesters of production/performance coursework. These may be fulfilled with any of the following:
THTR 339 Advanced Production Techniques
THTR 390 Theatre in Production
THTR 439 Advanced Design Techniques
THTR 490 Production Workshop