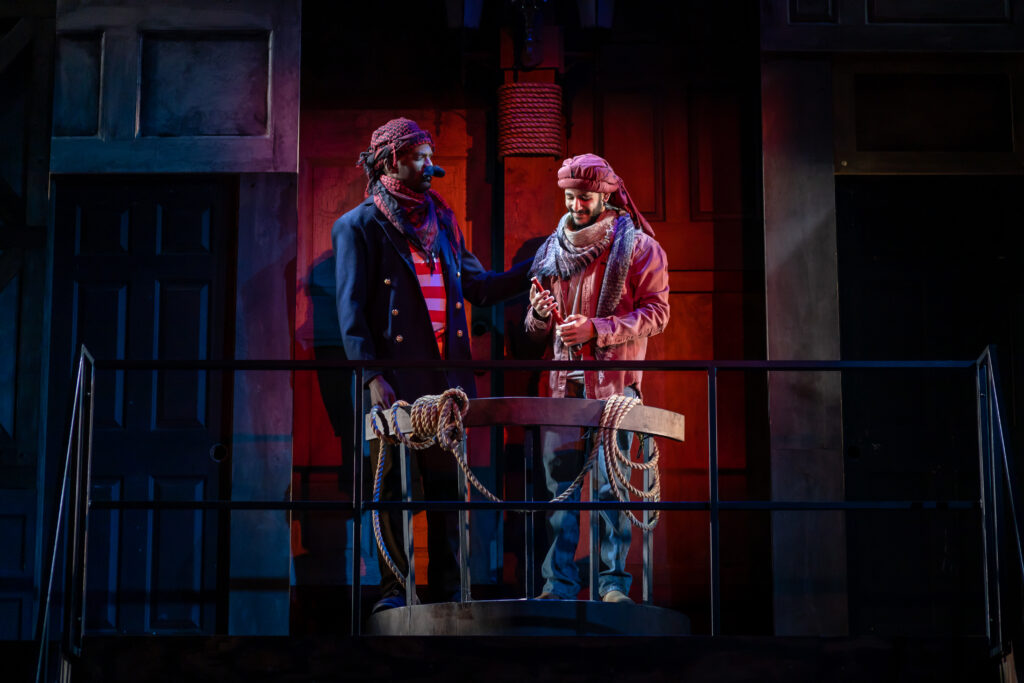 UMBC Department of Theatre offers a four-year pathway for students desiring to achieve a Certification in Secondary Theatre Education.
Theatre majors seeking teacher certification at the secondary level (grades 7-12) must meet all BA Theatre (Theatre Studies track) requirements with the exception THTR 460: Theatre Capstone. Students will be advised to complete the BA in Theatre (Theatre Studies Track) by taking suggested electives that best prepare them to produce theatrical productions in grades 7-12.
Upon successful completion of their Theatre BA course work, an additional 34 credits in the UMBC Department of Education, and student teaching, students are recommended by the UMBC Department of Education for teacher certification in the State of Maryland.
Students wishing to teach in Maryland after graduation are eligible for the full tuition Teaching Fellows for Maryland Scholarship.
Theatre Studies Track, Teacher Certification Pathway Requirements:
Education Certification: Credits (34)
CORE REQUIREMENTS (15)
EDUC 310 Inquiry into Education (3)*
GEP Social Science

Fall Sophomore/First Year Transfer

Prerequisite for EDU 412
EDUC 311 Psychological Foundations of Education (3)*
GEP Social Science

Spring Freshman/First Year Transfer

Prerequisite for EDU 411
*It is ideal to take 310 and 311 as early in career as possible
EDUC 388 Inclusion and Instruction (3)
Fall Junior/First or Second Year Transfer

No Prerequisite
EDUC 410 Teaching Literacy in the Content Areas: Part I (3)
Spring Junior/Second Year Transfer

Prerequisite for EDU 411
EDUC 412 Analysis of Teaching and Learning (3)
Spring Junior/Second Year Transfer

Must have taken both prerequisites EDU 310 and EDU 311
SECONDARY PHASE 1 INTERNSHIP SEMESTER (7)
THTR 407 Methods of Teaching Theatre in the Secondary School (3)
Offered as needed/requested
EDUC 411 Teaching Literacy in the Content Areas: Part II (3)
EDUC 448 Phase 1 Internship and Seminar (1)
Fall Senior/Second or Third Year Transfer

Fall of final year contains 40 hrs of in-school placement
SECONDARY PHASE 2 INTERNSHIP SEMESTER (12)
EDUC 456 Student Teaching in the Secondary Schools (10)
EDUC 457 Secondary Internship Seminar (2)
Spring Only – Final Semester

Contains 80 hours of in-school placement
Theatre Core: Credits (36)
THTR 100 Stagecraft (3)
THTR 104 Costume Construction (3)
THTR 115 Theatre Design I (3)
THTR 120 Intro to Theatre: Theory & Production (3)
THTR 202 Intro to Drama Literature (3)
THTR 220 Craft of Acting I (3)
THTR 261 Theatre Production: Running Crew (1)
THTR 262 Theatre Production: Light & Sound (1)
THTR 263 Theatre Production: Costumes OR THTR 264 Theatre Production: Scenery (1)
THTR 305 Ensemble I (3)
THTR 310 History of Theatre (3)
THTR 344 Script Analysis (3)
THTR 411 Modern Theatre: History & Practice (3)
THTR 460 Theatre Capstone is substituted for EDUC Internship
Theatre Studies Track Requirements: Credits (11)
Literature Series "L"
One of the following: (3)
THTR 349 Gender, Sex & Theatre Performance (3)
THTR 410 Contemporary Political Theatre (3)
THTR 470 Drama Seminar (3)
Suggested Electives:
DANC 110 Beginning Dance (2)
THTR 221 Craft of Acting II (3)
THTR 222 Vocal Training I (3)
THTR 229 Movement I (3)
ENGL 250 Intro to Shakespeare (3)
THTR 306 Fashion/Society (3)
THTR 353 Stage Management (3)
THTR 371 Playwriting (3)
Production/Performance Requirement: Credits (2 – 6)
As part of their final four semesters, all students in the BA Theatre Studies must complete two semesters of production/performance coursework. These may be fulfilled with any of the following:
THTR 339 Advanced Production Techniques
THTR 390 Theatre in Production
THTR 439 Advanced Design Techniques
THTR 490 Production Workshop