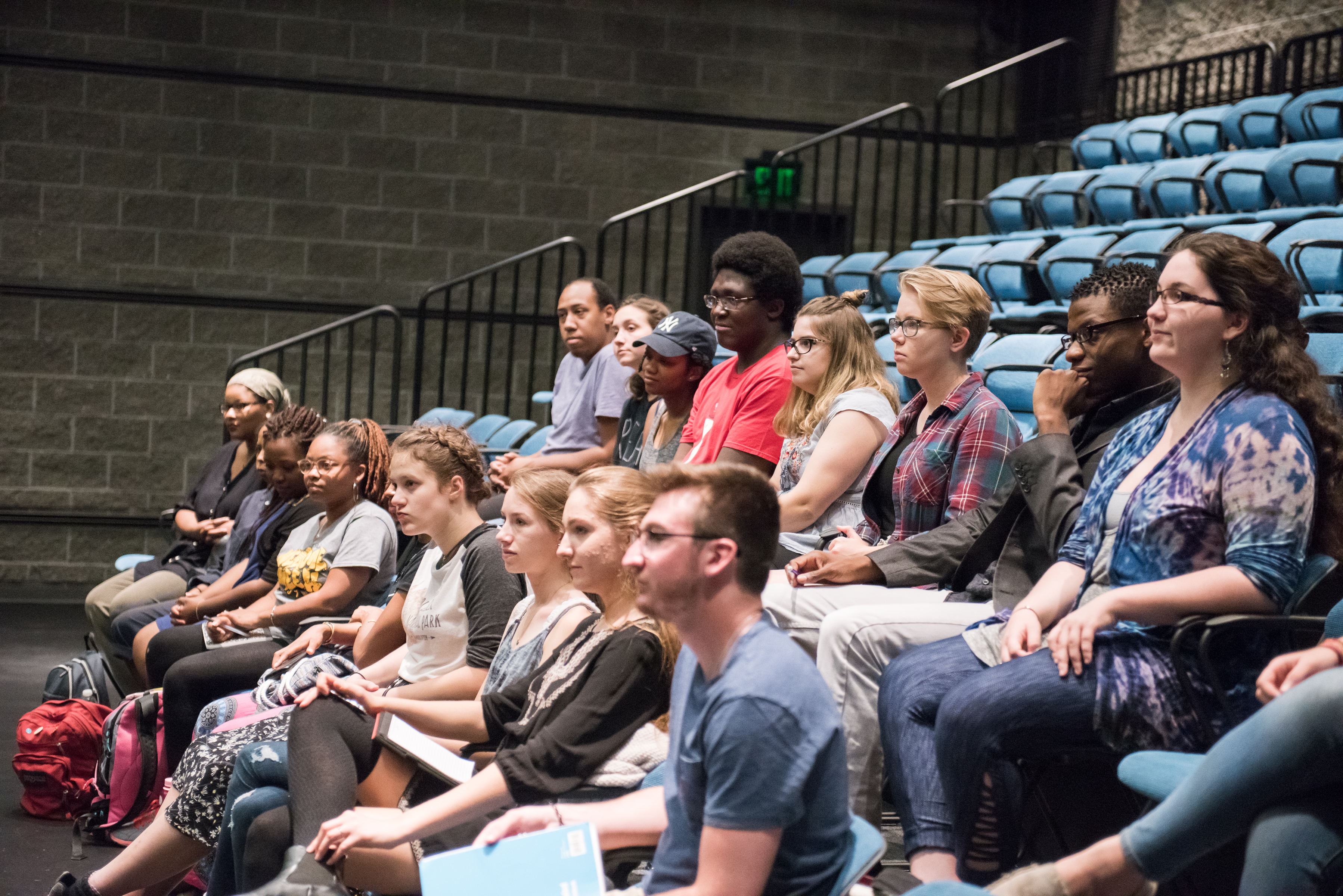 Every season UMBC Theatre brings guest artists to campus to work alongside resident faculty to mount our extraordinary productions. These professionals enrich our students' training with their expertise and provide them with a window on the professional world. These university collaborations often grow into off-campus projects and job opportunities — the interplay between course work, creative research, and professional community is one of the hallmarks of our department and UMBC. Visiting guest performers and playwrights regularly visit campus to share their creative work and knowledge on stage and through workshops with students.
Below is just a selection of the dozens of guest artists who have joined us at UMBC. To see more, visit our Past Seasons page.
Mark Bly
Dramaturg
Chisa Hutchinson
Playwright
Daniel Beaty
Performer
Anne Bogart
Director
Lee Breuer
Director
Patrick Calhoun
Sound Designer
Sheila Callaghan
Playwright
Audrey Cefaly
Playwright
Kara Lee Corthron
Playwright (UMBC Alumna)
Kia Corthron
Playwright
Daniel Ettinger
Scenic Designer
Karen Hartman
Playwright
Tina Howe
Playwright
Naomi Iizuka
Playwright
Nambi Kelley
Playwright
Lisa Kron
Performer
Tomáš Kubínek
Performer
Pei Lee
Costume Designer
Heather McDonald
Playwright
Ellen McLaughlin
Playwright
Tim Miller
Performer
Phyllis Nagy
Playwright
Jennifer L. Nelson
Director
Sarah O'Halloran
Sound Designer
Joseph W. Ritsch
Director
Kate Moira Ryan
Playwright
Tanya Saracho
Playwright
Peggy Shaw
Performer
Single Shoe Productions
Performers
Caridad Svich
Playwright
Lucy Thurber
Playwright
Naomi Wallace
Playwright
Timberlake Wertenbaker
Playwright
Artist photos are not UMBC property. No copywright infringement intended.